Today Google announced the new meta news keywords tag for Google News. The goal of the tag is so news publishers can use expressive headlines without hurting an article's ability to rank for relevant keywords. Here's how it works.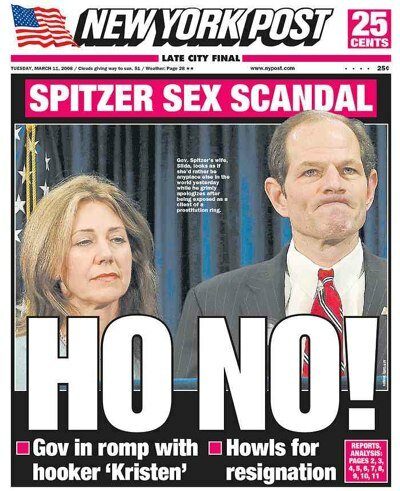 While this is one of my favorite NY Post headlines ever, whenever I work with news sites, I always use this as an example of a headline that is great for generating links but that has no keyword targeting. So it tends not to rank well for common search queries related to the subject such as "elliot spitzer hooker scandal".
A better headline for both attracting links and keyword targeting might be "Ho No! Spitzer in Hooker Scandal", but of course "Ho No!" is just so much more poetic.
Now with the News Keyword tag, publishers can add the following to the head section of an article:
Keywords could also be used to help disambiguate between related terms. If the Post wanted to specify that this article reported on former Governor Elliot Spitzer and not on it could use the following:
Well, that one might not work, but you get the picture.
Some basic rules:
You have to use commas to separate the keywords in the tag. Other punctuation is not allowed (e.g. no "Spitzer's Favorite Positions!").
You can use up to 10 keywords in a tag. The order doesn't matter.
Using this tag doesn't mean you are going to automatically rank well, but it couldn't hurt. And it couldn't hurt to hire a Pleasanton SEO either.